Introduction to the Hartman Band
The Hartman Band consists of three natives of Richmond, Kentucky: SHAY QUILLEN, Jeffrey Scott Holland, and JLK. These three individuals are considered the pioneers in Pusm Music, which is a genre of music that the Hartman Band definitely falls under. The Hartman Band's sound can be classified as "diverse," as they have hit almost every musical selection in the universe -- rock, pop, blues, jazz, country, bluegrass, new age, classical -- they've done it all. Everyone in the Hartman Band shares vocal chores, and have played the same instruments at one time or another, although each individual usually has at least one instrument that they call their "own."
SHAY QUILLEN
Quillen has been a members of some of the most successful and influential Pusm bands -- CENTRAL ROCK COMPANY, THE KABIRS, BRANDON STRING TRIO. He has also served as primary instrumentalist on the first three albums from JLK SEMICOLON ETCETERA. Quillen is currently a member of POMMES FRITES. Quillen is the sole mandolin player in the Hartman Band (making his debut with the Anthropomorphic Thoughts album, but he also contributes most of the acoustic guitar and drums as well.
JEFFREY SCOTT HOLLAND
Holland is best known as the mastermind behind Creeps Productions, and he has had a long and industrious career as a solo performer, and the leader of such acts as INDUSTRY STANDARDS, FORMULA LX-321 and HOLLAND'S JUG STOMPERS. He was the lead guitarist in CENTRAL ROCK COMPANY and currently performs with Todd Dockery under the name CHEESEBURGER & FRIES. Holland is usually behind the electric guitar in the Hartman Band, although he can often be found on keyboards as well.
JLK
JLK's long and fruitful multimedia career includes the founder and CEO of JLK Records. He was a producer long before he was a performer producing such classic Pusm albums as SHAY QUILLEN's Elvis Glue, SHARE AND ENJOY's Ode to Syd Barret and most of CENTRAL ROCK COMPANY's nummerous cassettes. His band credits include the creative head of the musical act JLK SEMICOLON ETCETERA. On the Hartman Band, JLK primarily bangs on the keyboards and beats on the drums, in addition to providing most of the percussion and background noise.
The origin of The Hartman Band
One evening in November of 1990, Quillen, Holland and JLK all gathered at Frisch's in Richmond. Quillen was on Thanksgiving break from the University of Virginia, where he was performing with the Brandon String Trio. Holland was in between gigs but was making a rare stopover in Richmond. JLK was the only one living in Richmond at the time, making albums from JLK Records which, at the time, was based in Richmond. The trio drank a lot of coffee, got back into Quillen's car, and decided to search out KEITH HARTMAN, an old high school friend who was rumored to be back in Richmond. They drove around but were unable to feel his presence. Instead, they got a tape recorder, Holland got a guitar, Quillen had a song boiling inside him, and they recorded it in the car in the darkened parking lot of the Western Steer. Feeling inspired, they returned to JLK Studios and stayed up until 3 AM recording songs, singing about whatever came to mind. The fruits of this session, combined with a second session in December 1990, resulted in the album Some Settling May Occur.
For almost every year from 1990 to 1997, the three have made it a point to unite whenever Quillen returned to Kentucky on vacation; Holland and JLK remained residents of the Bluegrass State. A session in 1992 in a dusty basement yielded their greatest hit, "I Wanna Be a Blueberry." A session in 1994 in Holland's Utility Muffin Research Kitchen No.3 was released on the album 20 Great Truck Drivin' Songs. A 1995 session in Lexington, Kentucky was released on their third album, Anthropomorphic Thoughts. The most recent sessions, from Christmas 1996 and June 1997, have yet to be released in any form.
With JLK and JLK Productions recently relocating to Louisiana, any further reunions of The Hartman Band seem to be rather slim. However, who knows what the future may bring -- that first session in 1990 occured entirely by chance; it could very well happen again. In the meantime, with at least two more albums promised from JLK Records (including a greatest hits retrospective), we will be listening to the Hartman Band for some time to come.
---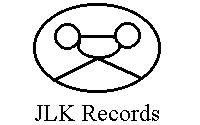 Copyright (c) 1997 JLK Productions