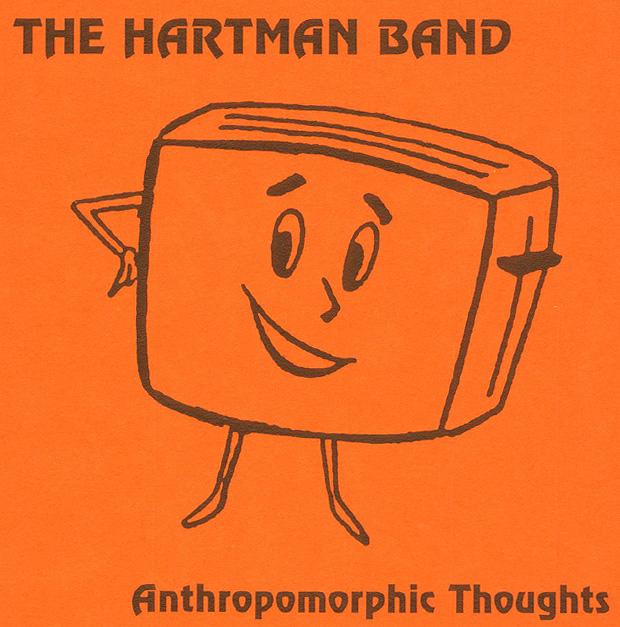 The Hartman Band's Third Album, Anthropomorphic Thoughts, to be released on CD on May 13, 2003!
The Hartman Band's third album, Anthropomorphic Thoughts, originally released on cassette in 1997, will be re-released by JLK Records in the compact disc format on Tuesday, May 13, 2003. This is the first Hartman Band album to be released on CD and only the second CD to come from JLK Records. This reissue will feature the entire original album, digitally remastered, as well as additional bonus tracks. The album is drawn entirely from a session that took place in 1995 at Kelly's House in Lexington, KY.
The Hartman Band is, as always, SHAY QUILLEN on vocals, guitars, and mandolin; JEFFREY SCOTT HOLLAND on vocals, guitars and keyboards; and JLK on vocals, keyboards and drums.
The track listing:
1. We're the Hartman Band (Comin' To Your Town)
2. Big Boy, Dolly & Nugget/Frosted Strawberry Pop Tart
3. Yeah, Yeah, Yeah
4. Stateland
5. The Bluegrass Parkway (Sure is Boring)
6. Mamma Don't Allow
7. Old Man Jake
8. Future 40's (String of Pearls)
9. 23
10. I Believe in Grapes
11. Blue Moon of Kentucky
12. A Tender Love Ballad Rudely Interrupted By an Incoming Phone Call
13. That'll Be the Day
14. Big Red Santa Claus Hat
15. That Crazy Mixed Up Kid (The Ballad of Carla Gover)
16. Appalachian Voodoo
17. In the Key of A (long version) (previously unreleased)
18. Kelly's House (previously unreleased)
19. Mass (previously released as a B-side)
27. Sign-Off

Check back later on this week for details on how to purchase this album!
---
Copyright (c) 1997-2003 JLK Productions
last updated 13 May 2003
Site launched 1 August 1997